NetSuite 2017.2 Release
NetSuite's 2017.2 release is coming soon if your account hasn't already been upgraded. It's packed full of a host of new features and enhancements to all aspects of the platform. Take a look at some of our highlights below and be sure to read the 2017.2 Release Preview in your account to get a full listing of the changes that are coming.
SuitePeople – Demo'd at SuiteWorld in April, SuitePeople is a fully comprehensive HCM/HR system that runs directly within NetSuite. SuitePeople allows you to effectively manage all aspects of your workforce including hiring, reviews, time-off management, terminations, employee notifications and news, and compensation.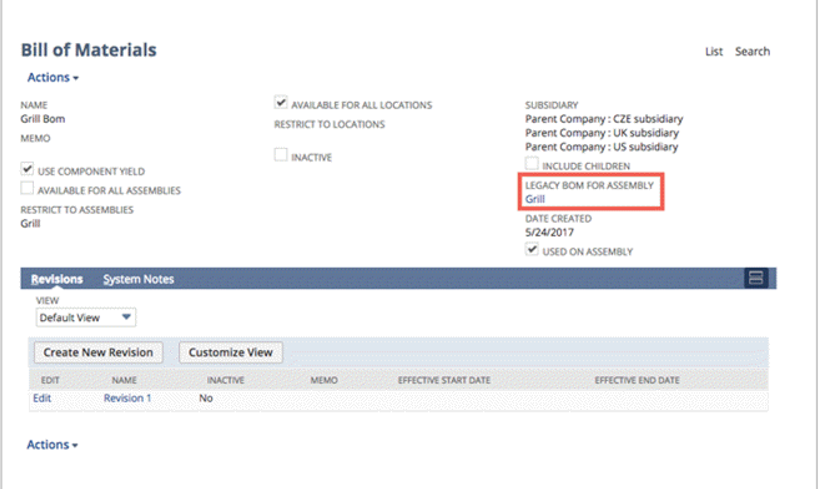 Advanced Bill of Materials – In 2017.2, you can now effectively separate a BOM from an assembly item. You can use specific BOMs throughout the product lifecycle in addition to creating BOMs for a specific location. You can also re-use a BOM across multiple assemblies. These new records will enhance your manufacturing revision control features and make the BOMs much more flexible in the system. After you enable this feature, you existing assemblies/BOMs are migrated to the new record formats and stored as a legacy BOM for easy rollback. These new BOM records will replace the Components subtab on your assembly items.
Duplicate Email Address Detection During Website Registration – The cheers from the ecommerce and online retailers must be resounding after this one. Several hundred customizations were probably created over the years to handle this particular issue. Starting in 2017.2, you can now enable duplicate detection for webstore registrations based on email address. No more scripts running on registration to check emails against the backend system or managing duplicates internally to merge customers together.
Support for Spaces and Special Characters in Bins, Lots, and Serials – A nagging problem prior to this release was the lack of special character support in inventory detail records such as bin numbers, lot numbers, and serial numbers. Starting in 2017.2, these records not support spaces and a handful of other special characters. Just note that once you create a subrecord with special characters, you cannot turn off the Advanced Bin/Numbered Management feature.
If you're curious to any of these new features and how they might impact or work in your account, please contact us today.